This website summarises the hazards of smoking and the benefits of stopping. It also provides, for each of 40 developed countries (and 5 groupings of countries, such as the European Union), estimates of the number of deaths caused by smoking. Where possible, it also describes the trends in the numbers of deaths caused by smoking.

The chief purpose of this website is to facilitate effective communication, first to the reader and then by the reader, of the extraordinary magnitude of the number of deaths that smoking is now causing. In developed countries alone, the habit is currently responsible for nearly two million deaths a year, about half of which are deaths in middle age (ages 35-69). There is, however, wide variation between one developed country and another in the current death rates from smoking, and in the trends in those death rates.

It is hoped that the clear and comprehensible presentation of the hazards of smoking, of the benefits of stopping, and of the findings for individual developed countries (and groupings of countries) will help to bring home, not only to the many millions of people in developed countries but also to the far larger populations elsewhere, the extent to which those who continue to smoke are shortening their expectation of life by doing so.

The website is relevant not only to those concerned with tobacco control but also, more generally, to those who wish to teach, study or just understand the epidemiology of smoking and public health.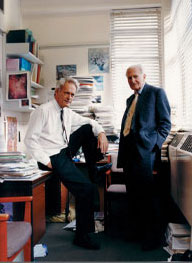 Sir Richard Doll (1912-2005), who helped identify the link between smoking and cancer, with Sir Richard Peto (left), who studies the impact of tobacco on populations and predicts future global trends

By kind permision of Cancer Research UK
Countries
Australia
Austria
Belarus
Belgium
Bulgaria
Canada
Croatia
Czech Republic
Denmark
Estonia
Finland
France
Germany
Greece
Hungary
Ireland
Italy
Japan
Latvia
Lithuania
Luxembourg
Malta
FYR Macedonia
Moldova
Netherlands
New Zealand
Norway
Poland
Portugal
Romania
Russian Federation
Serbia & Montenegro
Slovakia
Slovenia
Spain
Sweden
Switzerland
Ukraine
United Kingdom
United States

Groupings
All developed countries
Central Asia (8 countries)
European Union:
EU25 (current)
EU15 (pre-2004)
EU10 (2004 accession)